US & CA orders are eligible for free standard shipping (3-5 working days). Once the package is shipped, you will be notified by email and track the order directly in your account. The transit time of the international orders is 7-14 working days.
The warranty for EZVALO product is valid for a period of twenty-four (24) months from the date of purchase. Upon expiration of the warranty period, any repairs will be subject to a service charge.
If the product is returned during the warranty period, EZVALO will repair or replace any defective components, at no additional expense, within a reasonable time, after the product is returned. However, it may be subject to the costs of shipping the product.
If for any reason you have changed your mind about your purchase, or the item you received is faulty, damaged, or otherwise not as described on our website, we offer a full refund (excluding shipping costs) for up to 30 days from the original purchase date.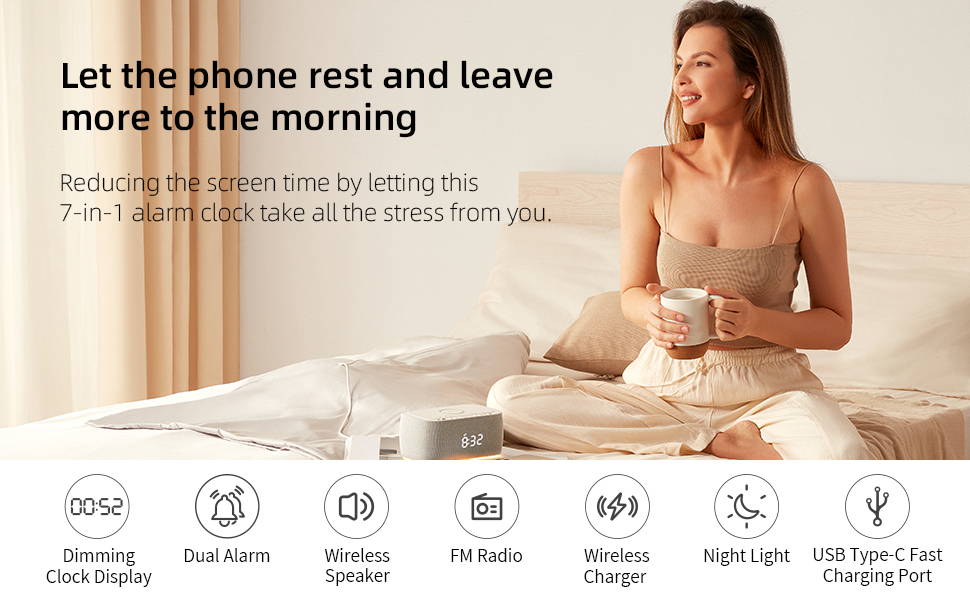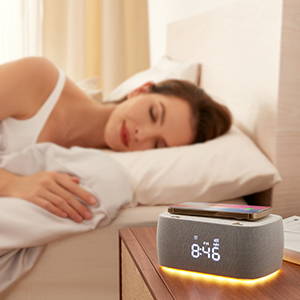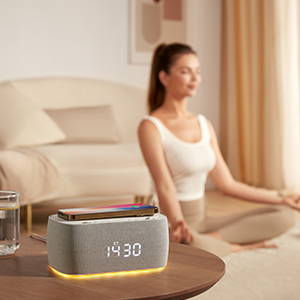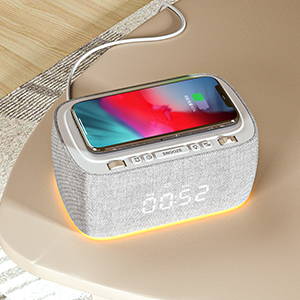 Digital Tuning FM Alarm Clock Radio

Be aside this minimalist alarm clock and dive into your favorite music, sports and news stations. This FM clock radio takes you a few steps manually or just one click on auto-tuning function to get right on your alarm clock with wireless charging station making alarm clock with wireless charger the greatest bluetooth alarm clock.
Stereo Bluetooth Speaker

This digital alarm clock can soothing you into a good sleep or helping you getting in to a meditation with your favorite music or audiobook. The two high-quality digital clocks for bedrooms inside are toned to produce a crisp sound with a full body base
Wireless Charging Pad

The Integrated smart temperature control and battery management IC ensures the safety of charging so alarm clock with wireless charging station can deliver up to 10W of fast wireless charging power for Qi enabled devices.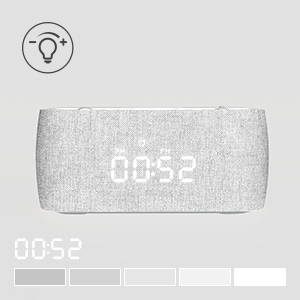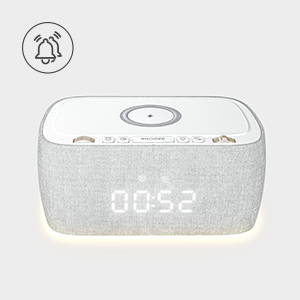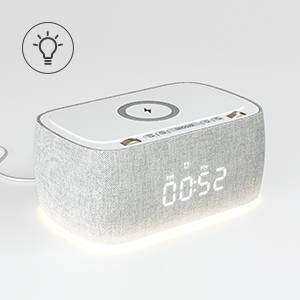 Dimming for Bedside Clock display
5 dimming level on the digital alarm clock, 0%, 10%, 30%, 70%, 100%. Your choice to get not to be disturbed in the night and also a clear view in the day.
Warm Night light

Overload information and blue light may cause common sleep disorder. Turn on the halo ring on the bottom and let this soft light warm the room and take you into a good sleep.
Dual-Alarm Setting

One for the morning and one for the night, or any other important daily routine that helps you recognize a beautiful day. Note: if the AAA batteries are not installed, the alarm clocks settings will be reset after power loss.